Fiberglass Scrim (Repair Tape)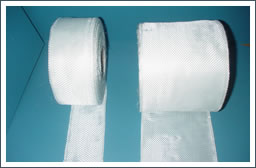 Quickly saturates with resin
Easily moulds to shape
Widths to 150mm
Wide range of weights/m squared available
Excellent Repair Tape
Flips fibreglass tapes are woven using a special type of glass yarn which is resistant to oils, solvents and most chemicals and has tensile strength. Flips tapes become quickly saturated with resin, leaving a pliable matting easily moulded into the required shape.
Flips fibreglass tape can be applied as reinforcements for GRP mouldings, high strength requirements, small GRP components, pultrusion tapes with feathered edge for tube manufacture e.g. boat building, prevention and repair of reflective cracking on highways, wind turbine blade construction and pattern making.
Our standard fibreglass tape is available from 25mm to 150mm in width and in 50m length rolls.
Weave
Pattern

Thickness
(mm)

Weight
gms/m2

Weight
Oz/yd2

Warp/
Weft ratio

Weight kg
for 100m of 50mm width

Bi

0.18

180-200

5.31

50:50

0.85