Expanded Teflon Sealing Tape - Flips® Sealon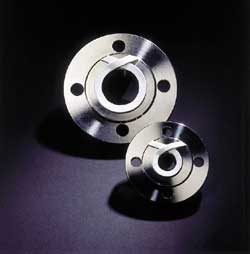 Flips® Sealon is a packing cord, a versatile gasket made of pure PTFE, and free from any additives.It is economical: cut off only the desired length from the spool. It usually costs, on a per-gasket basis, less than other gasketing alternative. There is no scrap or waste. Since there is no fitting or precutting, it has just to be pressed in place, saving on installation time, too. Since it is inert to most chemicals, it is perfect for the most challenging chemical applications.
Easy Installation
First, clean surfaces of flanges. Form a ring by pressing Sealon around center of flange. The two ends should overlap 1 ~ 2 cm near a bolt hole. Reposition the other half of the flange and tighten up the bolts on diagonal line using equal pressure. During routine maintenance, flanges will part freely and Sealon will be easy to remove.
Flips®™ Sealon with Adhesive Tape
Flips® Sealon can be delivered with self-adhesive film on one side, covered with a paper film as backing. This makes sealing work easy: simply remove the paper backing from the self-adhesive film and the self-adhesive tape will hold the Sealon in place until permanently put in position by the pressure of e.g. bolts.
Properties
Flips® Sealon has excellent resistance of pressing, creep relaxation and cold flow. It can even seal damaged and uneven surfaces. It does not have any corrosion and is able to be stored without any time limits. When properly installed, Sealon becomes a thin, strong gasket with the ability to withstand high compressive loads. This, together with its resistance to creep and cold flow, helps Sealon maintain a high level of tightness over time. In most applications, after initial installation, there is no need to retorque, even at temperatures up to 600° F (315° C).
Applications
Flips® Sealon is used in industries including: Chemical Manufacturing, Food Equipment Manufacturing, Pharmaceutical Plants, Petrochemical Production, Steel Manufacturing, Distilling, Food and Beverage Processing, Pulp and Paper Processing, Power Generation, Marine Applications. Sealon is used in virtually many types of sealing applications like: Pipe Flange Gaskets, Pipe Sealants, Fume Ducts, Concrete Lids, Tanks, Heat Exchangers, Pressure Containers, Cooling Towers, Reactors, Casings, Fiberglass-Reinforced Plastic Vessels, Various Lining Containers, Hydraulic and Pneumatic Systems, Sealing Gaskets for Large-Diameter Equipment. Since Sealon has a low stress to seal requirement, it also makes an effective gasket on delicate assemblies such as Glass, Plastic, FRP, Ceramic or Graphite.